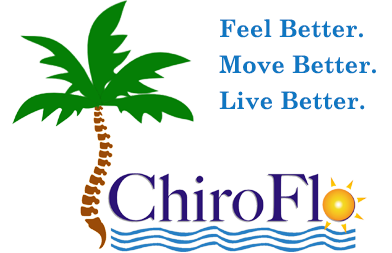 Patient Reviews
"Dr. Gibbs is not only a GREAT doctor, but also a WONDERFUL person! He is one of the kindest providers I have dealt with in my life! His concern for my overall welfare far exceeded any specialist I have been treated by. His knowledge is always growing and he is always prepared to educate patients also! HIGHLY AND FREQUENTLY RECOMMEND HIM TO FAMILY, FRIENDS, AND COLLEAGUES!!!!!"-

Angela Q.
"Dr. Gibbs is awesome! He is very knowledgeable, caring and flexible with scheduling. I initially bought a Groupon and once I used that up, I ended up purchasing a package for more visits. I also loved that he used a massager on my back and neck before every adjustment. I would highly recommend ChiroFlo!"-

Jacci V.
"Dr. Gibbs is awesome. I'm a Dental Assistant and my work often has my neck and back acting up, but since seeing Dr. Gibbs he's educated me on how to help with my posture at work and out of work, along with adjustments I feel so much better. Definitely give him a visit."-

Amber A.
"I recently completed a 12-week treatment plan with Dr. Gibbs, and I couldn't be happier with the experience. Dr. Gibbs made me feel very safe and comfortable, and he was extremely patient and accommodating with my frenetic schedule. He truly listened and made adjustments as necessary."-

Colleen U.
"Dr. Dan is wonderful, plain and simple. I have been a Law Enforcement Officer for 11+ years. Our profession is notorious for lower back pain. I have been putting off my pain for a few years and have learned "just to live with it." It finally became too much to handle. With my profession also comes the issue of allowing people to get close to you in your personal space. I explained this to Dr. Dan during my first visit. Dr. Dan made me feel very comfortable and made sure I understood the process before be began. I have been going to Dr. Dan for almost 3 months now and have no intentions of slowing down. Dr. Dan is a true craftsmen in his profession. The knowledge Dr. Dan has is incredible. You truly don't realize how much pain you're in until that pain goes away!"-

Aaron P.
"Dr Dan is a true professional. He is always calm & gentle and I refer all of my clients to him."-

Cathleen B.
"I had a great experience, Dr. Gibbs was awesome. I will definitely recommend him to my family and friends."-

Kelly J.
"Dr. Daniel Gibbs is quiet simply the best. Nothing speaks louder in healthcare than results, which is why I have referred family and colleagues to Dr. Dan and Chiroflo. And I will continue to do-so."-

Michael C.
"Love Dr. Gibbs! As a nurse I was very impressed with his calm manner and how he really listened to me. He clearly tells you his plan of care for you and answers any questions. I agree with another reviewer that he is able to sense when something is not right and will adjust his care to meet your needs. I'm so happy with the great (and quick) results I've experienced."-

Emily G.
"Dr. Dan the man. First of all I'm very particular when it comes to who is working on me. I did a consultation with Dr. Daniel first. Things I noticed: his office is immaculate. They are prompt and professional. He has an abundance of knowledge regarding his profession. I've been working with him now for almost 2 months and I wouldn't ever go to anyone else. You need to come visit."-

Paul R.
"I live out of town but needed an adjustment while traveling. Found Dr Gibbs on line and they did a wonderful job of giving me some relief. Very thorough and was able get the relief I needed."-

Bobby K.
"Dr. Dan is truly one of a kind. I was having lower back pressure that was bothering me at work, and after seeing Dr. Dan for about nine visits, the pain is gone and I feel great. The first time he was trying to adjust a certain part of my back, it was clear to him that the initial method was causing me some pain. I didn't say anything, but he sensed it. Very quickly, he changed to a different method, adjusting the part he was trying to fix with no pain to me in the process. Dr. Dan has the combination of old fashioned bedside manner with a young man's strength and poise. I highly recommend him."-

Joe G.
"Dr. Dan is super friendly! If i am ever in need of anything chiropractic related i know i can trust him."-

Christina
"Knowledgeable and friendly. Definitely would recommend."-

Cheynoa D.
"I'm fortunate to have met Dr Gibbs through a mutual friend. I find him to be extremely compassionate about helping his patients achieve optimal health in all aspects of life. He spent so much time with me getting a feel for my overall situation, not just looking at one particular area of the body. Dr Gibbs is knowledgeable, thorough, and is always offering suggestions on how to reach my goals in all aspects of my health. He has made himself available so many times to work with my schedule and I find this trait of dedication to be refreshing. I will continue to recommend him to friends and family with in our community." -

Elise Ben-Hamo
"Dr. Gibbs is incredibly knowledgeable in his field, and I was able to find relief in my neck and lower back of pain I've had for 4+ years. He also equipped me with exercises I can do at home for continued relief. I would highly recommend him as a chiropractor for anyone in Ormond Beach and surrounding areas." -

Daniel W.
"Dr. Gibbs is wonderful! He is knowledgeable, and passionate in/about his field! I will definitely recommend him to family and friends." -

Leah D